Day 1: Arrive in Puer City
Day 2 Puer-XiaoWaozi-Puer
Day 3: Puer – Lancang-Jingmai
Day 4: Jingmai
Day 5: Jingmai-Menghai-Jinghong
Day 6: Jinghong-Yiwu-Menglun
Day 7: Departure from Jinghong
Details of Program
Day 1 Arrive in Puer City
Sightseeing and Activities: Puer City, Ree Walking around Meizihu Lake
Accommodation: Puer
Meals: None
Arrive in Puer City, puck you up in the airport or railway station.
Transfer to the hotel.
You will be free to explore Puer City and walk around the Meizihu Lake by your own.
Day 2 Puer-XiaoAozi Coffee Farm-Daxiang Coffee Farm-Puer
Sightseeing and Activities: Puer Tea Expo Garden, Nandaohe Village, Mengzhuzhai Village, XiaoWazi Coffee Farm, Daxiang Coffee Farm
Accommodation: Puer
Meals: Lunch
Drive around 1 hour to XiaoWazi Coffee Farm in the morning. Arrive at XiaoAozi Coffee Farm and start the coffee making class (around 5-6 hours).
Yunnan coffee is the "golden belt" of the world's finest coffee beans. Almost half of Yunnan's total coffee production comes from Pu'er. After more than 20 years of painstaking development, Pu'er has been called the "coffee capital" of China. China may be the only country in the world that both consumes and grows coffee. And Pu'er coffee is a real Chinese taste.
Drive to Puer City in the late afternoon, you can walk around Meizihu Lake (Plum Lake).
Stay in Puer City
Day 3 Puer-Lancang-Jingmai
Sightseeing and Activities: Puer Tea Expo Garden, Laodabao Lahu Ethnic Village
Accommodation: Jingmai Bulang Princess Inn
Meals: Breakfast, Lunch
After breakfastm head for the Puer Tea Expo Garden(中华普洱茶博览苑) for tea-leaf picking experience and learn how Puer tea is processed. This garden shows the origination, history, development, plantation, making process, and tasting of Puer tea.
Transfer to Lancang County, pay a visit Laodabao Lahu Ethnic Village. Laodabao Village(老达保寨), located in the southeast of Lincang County, is 42KM from the county. It is a typical Lahu Village with all the 114 families/473 villagers are Lahu People. Laodabao Village, with well-preserved primitive sceneries, is very natural and beautiful. You can peer at their ethnic customs and profound history from their traditional pole and column buildings in the village since it is the village which has preserved the most intact Lahu's traditional cultures throughout the time.
Transfer to Jingmai Mountain in the late afternoon.
Stay in Jingmai Mountain
Day 4 Jingmai-Menghai
Sightseeing and Activities: Jingmai tea mountain, Wengji Village, Jingmai Village, Mangjing Village, Jingmai Tea making
Accommodation: Jingmai
Meals: Breakfast, Lunch
In the morning, enjoy the sunrise view of Jingmai tea mountain, do some hiking in the tea mountains.Visit Wengji Village, Jingmai Village and Mangjing Village.
Jingmai Tea Mountain is located in Huimin Township, Lancang Lahu Autonomous County, Pu'er City, east to Menghai County of Xishuangbanna , and west to Myanmar. It is the junction of Xishuangbanna, Pu'er and Myanmar. Jingmai Mountain is known as for Pu'er tea. In the ancient tea gardens of thousands of mu in Jingmai and Mangjing, dozens of villages have formed a landscape of 28,000 mu of Jingmai Mountain ancient tea gardens, including Banggai Village (帮改村), Longbang Village (笼蚌村), Nanzuo Village (南座村), Nanai Village (那耐村), Jingmai Dazhai Village(景迈大寨村), Mengben Village(勐本村), Manggeng Village (芒埂村), Nuogan Village(糯干村), Manghong Village(芒洪村), Wengwa Village(翁哇村), Wengji Village (翁基村), Laojiufang Village (老酒房村). The fresh tea leaves of each village have been sold in the name of "Pu'er Tea in Jingmai Mountain".
After lunch, transfer to Menghai County, stop to visit Jingzhen Octagonal Pavilion Temple.
Jingzhen Octagonal Pavilion (Chinese name: 景真八角亭), an famous ancient Buddhism architecture in China, is one of the most important cultural relics in Xishuangbanna. Located in the Jingzhen Village, about 14km away from Mang Hai County, this pavilion is called Octagonal Pavilion which means a place to hold the holy religious ceremony.
Transfer to Jinghong in the late afternoon.
Day 5 Jingmai-Menghai County-Jinghong
Sightseeing and Activities:Learn tea-making process, Nannuoshan Mountain
Accommodation: Jinghong
Meals: Breakfast, Lunch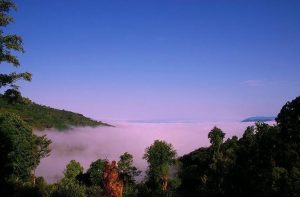 Wake up and breathe fresh air in the mountain, experience local ethnic culture by walking around in Jingmai village. You could visit some families to learn tea processing.
Then drive about two and half an hour to visit the tea plantation of Nannuoshan Mountain in Menghai County. Nannuo Mountain is famous in China and abroad as the home of the "King of Tea Tree," a human cultivated 800+ year old tree. Fine tea tree varieties and superior natural conditions produce outstanding Nannuo Mountain tea products. Nannuo Mountain Peacock tea is a 400 gram fresh Pu-erh cake. It possesses a green, glossy luster and has leaves and buds that are plump, strong, and tender. The strips of tea unfold with prominent fine hair. When brewed, the tea liquor is a bright golden yellow with a strong, but mellow and refreshing flavor. It has a sharp kougan(feeling in the mouth) and stimulates salivation. The tea has strong and distinctive aroma.
After that, drive to Jinghong City.
Day 6 Jinghong-Yiwu-Menglun
Sightseeing and Activities: Yiwu Old Town, local family, tea mountains and plantation
Accommodation: Menglun
Meals: Breakfast, Lunch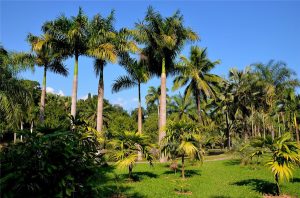 Today, you will head for Yiwu Town, a small town once boomed due to tea trade in the history, see the old part of town and the stele erected in Qing Dynasty that recorded the trade situation at that time. It is a main planting area of traditional Puer Tea. Visit the Yiwu Old Town, then pay a visit to local families that are still producing Pu'er Tea the traditional way. Afterwards, visit the tea mountains and plantation.
After that, visit Menglun Botanical Garden. Menglun Botanical Garden is in Menglun town of Menglai county around 80km away from Jinghong city, Menglun tropical botanical garden is the largest tropical botanical garden in China. It was established in 1959 by Chinese famous botanists including Prof. Cai Xitao, who devoted all his life to related scientific research with remarkable achievements. The garden boasts more than 4000 species of tropical plants covering an area of 900 hectares, quite a few of which are rare elsewhere, forming a colorful botanical landscape.
Stay overnight in Menglun.
Day 7 Menglun-Jinghong and Departure
Sightseeing and Activities: Jinghong City
Accommodation: Home
Meals: Breakfast, Lunch
Transfer to Jinghong for free time. Or transfer to Jinghong Airport or Jinghong Raiway Station for leaving.
Service ends.